How to plan a road trip
Driving Coast-to-Coast across The United States
---
There's no doubt in our minds - 2010 Total Timber Tour 2 was the most ambitious tour / project we have undertaken. We often get asked how much works goes into planning a road trip like this - well, here are a few pointers for interest or maybe of use if you're thinking of planning your own!
---
1. Choose your Parks (Aug '09)
We started planning in August 2009 by first selecting the parks. Top of the list were the parks with the 'must do' woodies in them. These are plotted in a mapping program called Street Atlas USA and routed from East to West. The reason we like to travel this direction is two-fold. The flight to the States from the UK is 7 hours to the East Coast and a day-flight, and the flight from the west coast is 10 hours and a night-flight. So, if we flew to the west, we would be too tired to do anything on day 1 and not have enough time to sleep on the homeward flight. Secondly, we gain 3 hours on the trip by traveling west and, with such long days, east bound lost hours would add unnecessary fatigue.
2. Check Opening Times (Aug '09)
Once we have a rough itinerary, we check the opening times of the parks.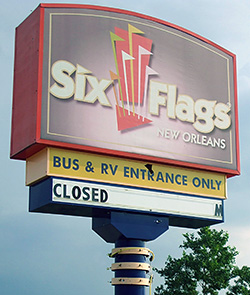 As 2010 opening times are not published until early 2010, experience tells us the 2009 calendar will be a good guide, especially with the smaller parks that only open weekends, or have a 5/7 day operation. Armed with this matrix, we go back to the itinerary and move stops to coincide with opening times. For this trip, this meant spending longer in California than planned because the parks around Texas and New Mexico are only open weekends and dropping some stops before this. It's worth noting that recording opening times is best done during the open season as many parks remove them for the winter before publishing the next year's times. We also try to avoid the big parks on a Saturday.
3. Plan Hotel Stops. (Aug '09)
For each day, we route one park to the next and look at park opening times. To ensure we get to a park for opening (when the queues are lowest), we plan a 2-hour drive in the morning. The time we leave the park that day is determined by the drive to get within 2 hours of the next one, and so on. In many cases, this allows a full day at a park, in others it may mean only a few hours but, by enlarge, we'll only plan for a short stop if it's a small park, or we have been there many times before. The reason for doing this is to validate the viability of the itinerary - can it be done!?
4. Book the Flights (Sep '09)
Once we have a fair idea of the route and dates, next it's time to book the flights. We always wait for an airline sale to start (in this case BA). Booking a different return airport is very easy and the cost is comparable with returning from the same airport. On this occasion, we managed to spend some of our frequent flyer miles we've accumulated over the years to upgrade the home-bound trip. When looking for the best price for a flight, the major airlines don't usually differ from the booking sites like Expedia, but it's worth considering that some of the holiday sites do offer insurance against failed carriers
5. Book the Hire Car (Oct '09)
Now we're committed to the flights, we know our arrival and departure times to be able to secure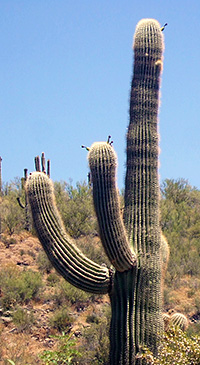 the hire car. If returning from the same airport it's worth shopping around for this, but if renting one-way over this distance, we found only National Car Rental offer a 'reasonable' drop charge (some companies quote $1000!). However, if you don't live in the States, it's worth shopping around for the best supplier of this company - in our case Car Hire 3000 (now rentalcars.com) offered a package £1500 less than booking with National Direct + an upgrade to a gold deal that can't be booked anywhere else I can find (free tank of fuel and additional driver). In all, the car works out at about £230/week all in. If the exchange rate had been quite poor at this point, I would have waited - but it was quite stable and we were due a VAT rise, so it seemed a natural time to book. It's also worth noting that repeat business with the same company does help - they discounted my booking even further when I phoned them up.
6. Finalise the Itinerary
Once all this is done, we lock down the itinerary. Of course, announcements about new rides over the next few months may have us change a little but, in the main, this is the route we will now follow. This is an important step in the process as it closes your mind to making unnecessary adjustments just for the sake of it. Adjustments mean cancelling hotels, creating new daily schedules and routes etc.
7. Book the Hotels (Nov '09)
Once the daily itinerary is finalised, the fun now begins. Each night we need to find a decent hotel in the right town for a bargain price. For this trip we set a budget of £1000 for the trip ($77/£47 per night). Experience tells us it's not worth going much higher as we're not in the hotels for more than a few hours to sleep, so paying extra for facilities we won't use is a waste.
This is where 2 website's are used extensively, Kayak and Trip Advisor. Kayak will give a list of hotels within a few miles of our target town in order of price, and Trip Advisor will tell us how that hotel ranks against others in the area. After ploughing through many Internet pages, the hotels are selected within the budget. We will pre-pay some if there is a good saving to be had (although this limits changes to the tour too much as these are usually non-refundable). Quite often moving the target area 20 minutes further along the route can save 20-40% on that night's accommodation. The reason we pre-book hotels is from experience. It would be quite easy to stop en-route in the States - it's what they do very well, however it's harder to budget this way as you may be tempted to pay $10-$20 more than you want and, over 3 weeks, this soon adds up. Most of the hotels we use are Sleep Inn, Comfort Inn etc. By the way, it's worth remembering that few searches include tax (5-11% on average) when searching so this needs to be taken into account when budgeting. Since the time of writing, I also use a 3rd site for comparison - Trivago.
8. Launch the Website (Dec '09)
This is a good way of keeping all the information together and letting your friends know what you're up to. It also comes in handy later when you're contacting the parks.
9. Book the Pre-Trip Hotel.
An email offering rooms for £9 from Travelodge means we can travel to Heathrow from Nottingham after work on the Friday and stay 1 mile from Terminal 5 at Heathrow for next to no cost. This is a real bonus as rooms around Heathrow are always quite expensive.
10. Confirm Park Opening Times (Mar '10)
Most parks will have now published their 2010 season opening times, so we confirm and record any changes.
11. Confirm Daily Itineraries and Routes (Apr '10)
This is where the final trip is locked down for the second time. After the early planning, one new coaster has been postponed, and one is likely to remain "under construction" for the next month or so. This gives us a good reason to re-route via Canada and visit a new park we haven't done before. It means more driving and changing a few hotels.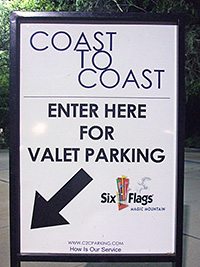 With only a few weeks before the trip we draw up daily itineraries including detailed driving instructions.
This tells us what time to leave the hotel to arrive for park opening, and what time to leave the park to get to the next hotel by 10pm. The routes are printed out as a backup. During the trip, we'll use our trusty TomTom SatNav for guidance, with a backup Delorme / USB receiver in the laptop if needed. The paper copies shouldn't be needed but are a good for peace of mind and an overview of the day's routes.
12. Contact the Parks (May '10)
We always let the parks know they're on the trip in case they want to use us for publicity or have any coupons or discount for entry we don't know about.
13. Keep an eye on the news! (May / June '10)
In the run up to the trip there have been cancelled flights due to volcanic ash and cabin crew strikes, planned rail strikes, increasing fuel prices, decreasing exchange rates and the oil disaster near to the park we missed in 2008. Keeping everything crossed!!!!
14. The Trip (June '10)
Time to put all the planning to the test and have the 'holiday of a lifetime! (again!) (See how all that planning came together by reading our daily blog of the trip)