About Us
History
---
We have travelled all around the world to ride roller coasters, including Europe, Japan, South Korea, Australia, New Zealand and North America.
Ian's first trip to the States was in 1989 and Adrian's in 1995 with the Roller Coaster Club of Great Britain. We have now visited the States 20 times, clocking up the air miles and seeking the best America has to offer. A brief interlude into storm chasing a few years ago took us to some states without roller coasters! and we can now boast that we have visited every state except 4.
The most times we visited the States in one year was 2004 when we clocked up 4 visits in all. Over the years we have watched the industry go from strength to strength, and also watched some much loved coasters disappear or their parks close.
If interested, you can read all about our trip history and parks visited.
Ian's a bit of an adrenaline junkie, having done a tandem skydive from 12000 feet, and many bungee jumps. There is no thrill ride or coaster he won't try, and few he doesn't like. All but a handful of the pictures on this site are taken by him. He's got a keen eye for a good coaster photo but modesty prevents him from saying he's a good photographer!
We are both in the 700+ club for number of coasters ridden, and have visited over 200 theme and amusement parks.
Adrian has also done a solo parachute jump from 2500 feet and is happy with any ride or height, as long as he understands the safety systems first. He's also the brains behind this website and dabbles in videography also. You can read more about him below.
Adrian
Webmaster, Videographer and Trip Organiser
---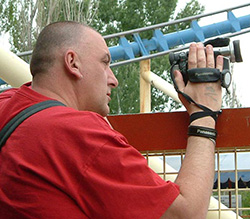 Hi. Just a few words about me. I was born a long time ago (1962) in Somerset, England. I always had an unhealthy interest in traveling fair's as a child and would spend months looking forward to the start of September when TOR FAIR would come to Glastonbury. The fact that this also coincided with my birthday probably had a lot to do with the association of good times. I even remember spending all day there once, just to watch the filming of SHOESTRING with Trevor Eve and Diana Dors in the early eighties.
My First Coaster.
---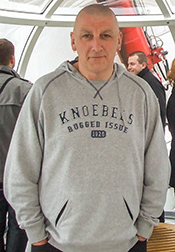 My first recollection of a rollercoaster was from the age of about 4 with a trip to Butlin's in Minehead. I'm sure it was a mouse and I can remember, although I didn't go on it, having nightmares about it for days afterwards. My next brush was at the age of about 9 or 10, when I remember the publicity that surrounded the Battersea accident. Others might find it strange that I developed an interest, without actually riding them - something I cannot totally explain! The fire was lit proper when, on a Saturday afternoon, circa 1981, a sports event was cancelled, and the programmers showed 'America Screams' as a replacement. This program, hosted by Vincent Price, was the catalyst that started my enthusiasm - although it was still going to be another 2 years before I rode my first coaster!
My First 'Real' Coaster.
---
It was quite a low-key affair, a bank holiday excursion to Barry Island in South Wales.
From there a BBC program, QED called "The MOST SWIRLING, SWINGING, SLIDING, SPINNING, UP-AND-DOWN RIDE OF YOUR LIFE", showing more American Parks fuelled a dream that someday I would go to the States - although this dream was to take another 10 years to become a reality.
After the QED program, 4 of us set off to do Alton Towers, Blackpool and West Midland Safari Park.
It sounds so ridiculous nowadays to say I was terrified at my first sight of the corkscrew!
Getting the Bug!
---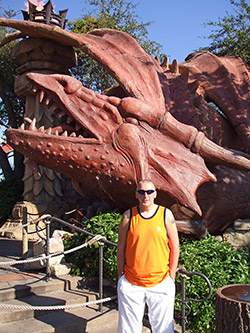 The next few years were spent catching up on those lost years and spending my twenties growing up in tandem with the British theme park business, visiting parks as funds allowed.
I was lucky enough to catch a program shown on Welsh Television about John Wardley circa 1992 - called Screams, Dreams and Thrill Machines - which became my new QED for the next couple of years.
However, in 1994 the biggest event in British coaster history was about to put the UK (and me) onto the world stage - The Year of the Roller Coaster!
With the opening of The Big One, Shockwave and Nemesis the public interest (and mine) was rocketed.
The Point of No Return
---
Tomorrow's World had a program devoted to Nemesis, along with John Wardley.
I decided to give Nemesis a try on the first Tuesday of the season, 3 days after opening. The park was quiet and, like many others, I instantly fell in love with it. It still remains in my Top 3 today.
During this day, John Wardley was on site and, recognising him, I decided to thank him for a great coaster. This was followed up by a letter that, to his credit, he replied to with details about The Roller Coaster Club of Great Britain.
Within 8 weeks I was at The Blackpool Bash and among like-minded folk!
Now it's Serious Fun!
---
Exactly a year later, I was on my first club trip to the States. Since then I have been on a many trips stateside both with the RCCGB and the ECC. In 2000 we ventured to Florida under our own steam which gave us confidence to also return on our own many times since. The first major independent trip in Aug '04 covered 3015 miles from Atlanta through to Visionland, Lake Winnie, Dollywood, Kings Island, Strickers Grove, Wyandot Lake, Camden Park, Carowinds, Kings Dominion, Busch Gardens Williamsburg, Myrtle Beach and back to Six Flags Over Georgia.
Just rollin' along..
---
The last few years have been more of the same, with 2 trips to the Far East including Japan and South Korea and 2 drives from coast to coast across the States. In 2012 we ventured to the far side of the world to celebrate our 40th/50th birthdays and I did my first Bungy. 3 weeks later, on the way home we did the world highest commercial bungy at the Macau Tower.
Non-coaster related I also appeared on the Weakest Link in 2005 (and won it!) and have tried storm chasing but didn't like it.
I've also done a parachute jump (static-line), been featured on local TV in a program about the ECC and been a traffic reporter for charity.
What next? Watch this space...